LOCAL AND STATE PUBLIC HEALTH ADVISORIES 
June 4, 2020: Dr. Morrow revised the shelter in place order  on June 4th to allow for restaurants with outdoor dining facilities to reopen to the public. Tables must be 6 feet apart and no more than 6 people can be seated at a table. Face masks are required until you are seated and in general are recommended unless you are actively eating or drinking. This revision goes into effect Saturday June 6. 
May 29, 2020: On May 29, San Mateo County Health Officer Dr. Scott Morrow released a revised shelter in place order which went into effect on June 1. The importance of wearing a face covering and adhering to social distancing guidelines will still be required anywhere that is opening. With continued limitation and safety measures, the following changes are now in effect:
Retail stores can now open their doors to allow customers inside although curbside pickup and delivery is still encouraged when feasible

Places of worship can hold services with a maximum of 100 people or 25% of the building capacity (whichever is lower). 

Beaches in the county can now operate normally as well. 
In the most recent Health Officer Statement, Scott Morrow says:  "These modifications seek to increase the immunity of the population slowly and methodically, while minimizing death. We are trying to keep equity in mind and minimizing economic damage, while not overloading the healthcare system. The virus continues to circulate in our community, and the increase in interactions among people that these modifications allow is likely to spread the virus at a higher rate. The risk of exposure to COVID-19 looms large for all of us. The public and open businesses need to fully do their part to minimize transmission of the virus." 
You can read more of the thoughtful Health Officer Statement here and find more details on the new order here. Of note, the seven counties that initially ordered the "Bay Area Shelter in Place" order in mid-March are no longer necessarily working together as a unit. Some of the counties are more restrictive while others have progressed further into the state's reopening plan, so if you live in a neighboring county, make sure you're familiar with the appropriate regulations.
May 13, 2020: Redwood City – San Mateo County's Health Officer Dr. Scott Morrow says he intends to issue a new shelter in place order, effective on May 18, that would bring San Mateo County in line with the early Phase 2 guidelines of the governor's Resilience Roadmap. The Roadmap allows for curbside and delivery activities for retail. Logistics and manufacturing, along with some other businesses, can open with modifications. Dr. Morrow expects to release the local health order, in line with the state order, later this week.
Dr. Morrow says "I am encouraged that data about COVID-19 cases, hospital capacity, and other indicators show some stability so that San Mateo County can now enter the early stages of Phase 2. I want to remind everyone these modifications are not being made because it is safe to be out and about. The virus continues to circulate in our community, and this increase in interactions among people is likely to spread the virus at a higher rate. Whether these modifications allow the virus to spread out of control, as we saw in February and March and resulted in the first shelter in place order, is yet to be seen. The social distancing and face covering directives, along with the prohibition on gathering, will remain in place since the risk of exposure to COVID-19 looms large for all of us. The public and open businesses need to fully do their part to minimize transmission of the virus."
April 29, 2020: Today, health officers in seven Bay Area jurisdictions released orders to extend the previous stay-at-home order through May 31 with some loosening of restrictions. Earlier this week, they released a statement saying "At this stage of the pandemic it is critical that our collective efforts continue so that we do not lose the progress we have achieved together. Hospitalizations have leveled, but more work is needed to safely re-open our communities. Prematurely lifting restrictions could easily lead to a large surge in cases." As of today, there are 7,273 confirmed cases of COVID-19 and 266 deaths in those seven areas, up from 258 confirmed cases and 4 deaths when the shelter in place order was first issued. 
With the new order, the stay-home mandate, social distancing and masking measures remain, but some restrictions on several kinds of businesses and outdoor activities are lifted. Construction projects, landscaping, gardening, golf and tennis will be allowed. Similar to what Governor Newsom discussed last week, any future loosening will be based on five indicators: flattening or decreasing coronavirus case numbers, sufficient hospital capacity, whether the region is meeting the need for testing, stronger contact tracing and isolation, and an adequate supply of PPE for health care workers.  
April 17, 2020: As of April 17 at 11:59PM, the San Mateo County Health Officer, in coordination with other Bay Area health departments, is requiring residents to cover their nose and mouth with a face covering, such as a bandana, scarf, towel, or other piece of cloth or fabric, when leaving home in many situations. These include doctor appointments, grocery shopping, pharmacy visits and riding on public transit, among others. Children aged 3 to 12 years are not required to wear a face covering, but if they do, they should be supervised by an adult (those under 2 years should not wear masks). Enforcement will begin at 8AM on April 22, 2020 and violations of the order are punishable as a misdemeanor. 
Acceptable face coverings can be made of a variety of cloth materials, be factory-made or hand-sewn, or can be improvised using bandanas, scarves, t-shirts, sweatshirts or towels. Please note, masks with one way valves cannot be used.
Face coverings should be washed frequently with detergent and hot water, and dried on a hot cycle. Ideally, wash your face covering after each use, and have a dedicated laundry bag or bin.
Make sure the covering is comfortable – you don't want to have to keep adjusting the mask, which means touching your face. Always wash your hands, or use hand sanitizer, before AND after touching your face or face coverings
Please remember that a face covering is not a substitute for guidance about social distancing and handwashing.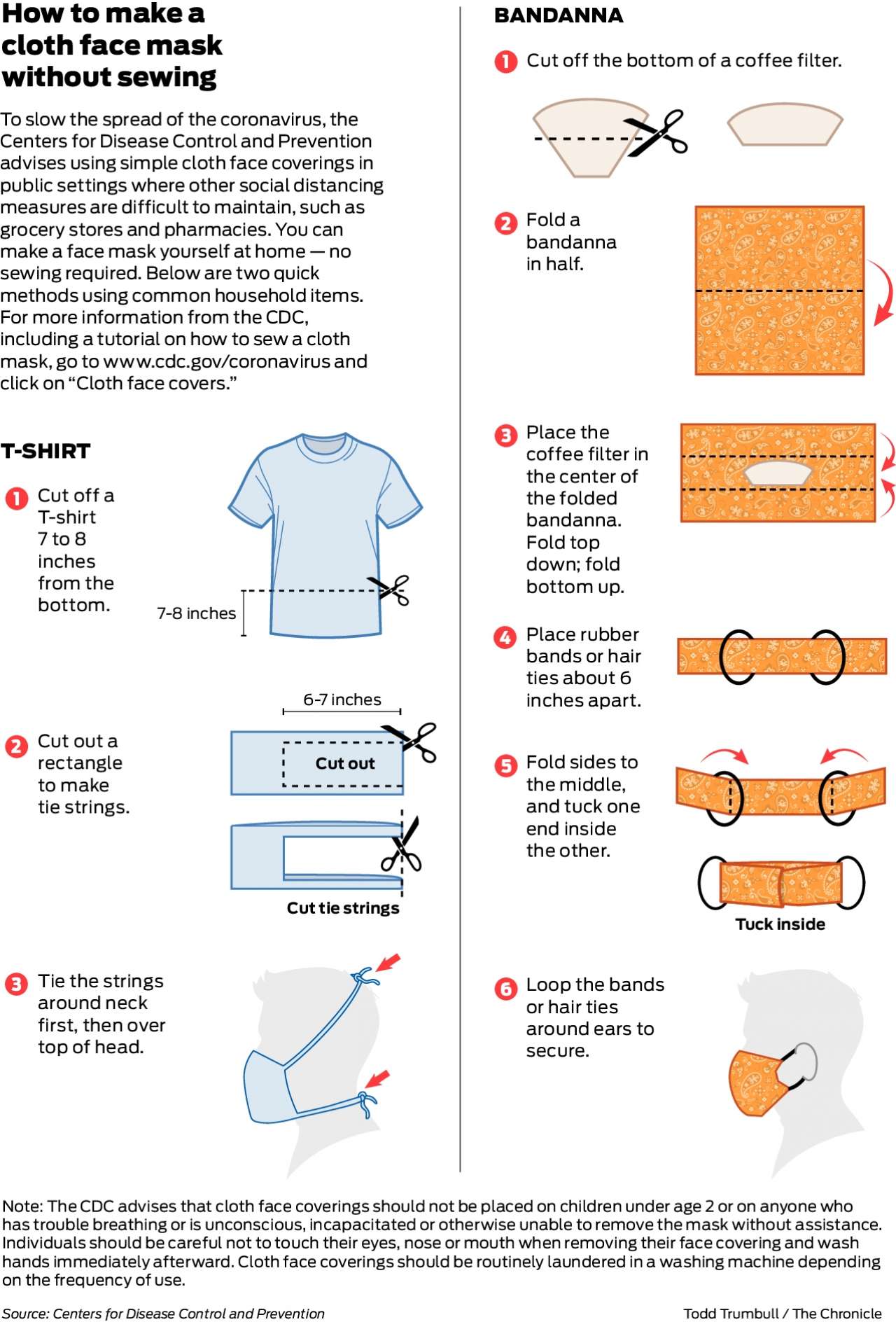 March 31, 2020: Health officers in seven Bay Area jurisdictions are extending a previous stay-at-home order through May 3, 2020 in order to preserve critical hospital capacity across the region.
The previous three-week order was set to expire on April 7. While the prior order has been effective in reducing the rate of transmission of the novel coronavirus (COVID-19), it is not enough. There has been a significant increase in the number of positive cases, hospitalization and deaths from COVID-19, which is beginning to strain healthcare resources.
The health officers have determined that more and stricter social distancing is needed to slow the rate of spread, prevent deaths, and stop the health care system from becoming overwhelmed.
The new order adds some clarifying language around essential business and activities, as well as some new directives, including:
Use of playgrounds, dog parks, public picnic areas, and similar recreational areas is prohibited. These areas must be closed to public use.

Use of shared public recreational facilities such as golf courses, tennis and basketball courts, pools, and rock walls is prohibited. These facilities must be closed for recreational use.

Sports requiring people to share a ball or other equipment must be limited to people in the same household

Requires essential businesses to develop a social distancing protocol before April 3

Most construction—residential and commercial—is prohibited

Funerals limited to no more than 10 people attending

Essential businesses expanded to include service providers that enable




residential transactions (notaries, title companies, Realtors, etc.); funeral homes and cemeteries; moving companies, rental car companies and rideshare services that specifically enable essential activities

Essential businesses that continue to operate facilities must scale down operations to their essential component only
March 23, 2020 San Mateo County Health Officer Statement: As I write this, I am both immensely grateful and exceedingly disappointed. We are in a grave crisis. I believe the virus is growing at an exponential rate in our county. Unless everyone does their part and follows the County's Shelter-in-Place order and the Governor's Safer at Home order, we will be facing an Italy-type catastrophe very soon. These orders are not recommendations, they are rules to be followed. My disappointment stems from the fact that many people just aren't taking this seriously and going about their business as if nothing has changed. Our world has profoundly changed in an instant. It is now up to you all, the community, to decide what you want your future to be. If you decide you want to do your own thing and follow your own rules, you disrespect us all. You spit in our face, and you will contribute to the death toll that will follow. For those of you who say: "nobody tells me what to do," now is a time to make an exception. You can go back to being ornery in the future.
Keeping humans apart from other humans is the only tool we currently have to slow this virus' spread. This is a particularly fraught dilemma, as humans are social animals and they need each other, but we need to make every possible effort to avoid contact with each other.
For families in different households, do not mix your households at this time. As hard as this is, do not gather in any way outside of immediate households. As for outdoor exercise, people certainly need to get out, but do this in your own immediate neighborhoods. Do not drive except to provide or obtain an essential service. Do not go into other neighborhoods for recreation. This increases the risk of virus spread. Always maintain social distance. Wash your hands frequently and follow all the other recommended actions.
I'm grateful for the enormous amount of activity and the enormous amount of resources, from both the public and private sectors, going into protecting us and going into our healthcare system surge capacity. I am grateful that many people are taking this seriously and are doing everything they can to slow the spread of this virus. You are heroes for doing this.
I am deeply grateful for and everyone should thank God for our first responders and our front line medical and public health personnel. They are taking on personal risk to take care of you. They are heroes for doing this.
As for the supply shock, please lower your expectations of what you can get and when you can get it. Be grateful for anything that you can get. The capacity to deliver instant gratification is over.
As for the demand shock, look around and determine which small businesses you'd like to see still in your community when this is over. Then patronize them. Even if they are not open and you can't get goods and services from them, you may want to consider paying them for services you might have received from them or they will be gone.
VOLUNTEER. Your community needs you now. There are many, many things that need to be done.  This is the link to the survey for folks that want to volunteer: https://www.surveymonkey.com/r/WSXH6PZ
This is the email for non-profits and organizations needing volunteers: Smc_volunteers@smcgov.org.   
DONATE. There are critical shortages of supplies, especially some medical supplies. Please donate personal protective equipment (PPE). The email to donate PPE isSMCMedDonations@smcgov.org. There will be an SMCStrong fund set up shortly to support individuals, small businesses and non-profits in the County. Donate to this if you can, or to your charity of choice.
Now more than ever, what I need for you to do is fully follow my recommendations' advice and orders, unite as a community, come to each other's aid, and let kindness, compassion, and gratitude guide your actions.
Scott Morrow, MD, MPH
San Mateo County Health Officer
March 23, 2020
March 19, 2020: The California State Public Health Officer and Director of the California Department of Public Health is ordering all individuals living in the State of California to stay home or at their place of residence, except as needed to maintain continuity of operation of the federal critical infrastructure sectors. The order goes into effect Thursday, March 19 and is in place until further notice.
March 16, 2020: On March 16, the Public health officers of Alameda, Contra Costa, Marin, San Francisco, San Mateo, and Santa Clara counties announced, with the City of Berkeley, a legal order directing their respective residents to shelter at home for three weeks beginning March 17. The order limits activity, travel and business functions to only the most essential needs. The guidance comes after substantial input from the U.S. Centers for Disease Control and Prevention (CDC) and best practices from other health officials around the world.
Here is a link to the most recent Health Officer Statement from Dr. Scott Morrow which further explains this decision.
March 15, 2020: Gov. Gavin Newsom and California health officials gave an update Sunday on the state's response to COVID-19, the novel coronavirus.   
      The governor said in his update he was calling for the home isolation of all seniors, anyone 65 years of age or older, and those with chronic conditions.
      He also called for the closures of bars, nightclubs, brewpubs and wineries to help prevent the spread of COVID-19.
March 4, 2020: As California's testing for COVID-19 at 13 state and county public health labs in the state ramps up, Dr. Angell of San Mateo County stressed that faster testing of patients may lead to a more rapid increase in the number of confirmed cases reported. That is not necessarily a sign that the rate of infection is increasing, but that our ability to test more people more rapidly is leading to better detection. While additional positive tests continue to be reported by county health officers, state officials emphasized that these reports show swift and robust action is being taken to detect cases early, isolate and care for patients, and trace contacts.